The Art of Recovery - Mental Health Arts Exhibiton
by Rebecca Coxon
The Art of Recovery is an exhibition celebrating the creativity of people who use mental health services in Kensington and Chelsea.
The exhibition is helping to promote awareness about mental health and the people who use it in the Kensington and Chelsea boroughs of London.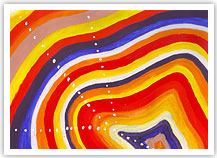 Accompanying the works of art, poetry and photography created by people who use the various mental health services in the area, the exhibition highlights that:
"Mental health is not merely the absence of mental illness. It means different things to different people but in general, mental health describes well-being, living a fulfilling life with good relationships and being resilient to life's challenges."
"One in four people will be affected by mental illness at some point in their life and one in six adults has a mental health problem at any one time."
All of the pieces of art on show at the exhibition have been produced by residents who use the borough's mental health services - some are in-patients, and others attend day centres. For the North Kensington exhibition, artists were asked to talk about how they had developed the artwork and the feelings behind it. Some decided to describe their feelings in depth, whereas others preferred to remain anonymous.
The exhibition asserts that "Around 300 in every 1,000 people will be affected by some form of mental ill health each year. This exhibition showcases some outstanding artwork, including paintings, photographs and poetry. At the same time it seeks to raise awareness of the factors that can affect mental health, and of the services that are available in the borough."
Following a launch by the Mayor on 29th June, the exhibition is currently touring the borough's libraries during the month of July visiting Central, Chelsea, Kensal and North Kensington libraries.
The exhibtion runs from 30 June to 1 August 2011. For more information visit: http://www.rbkc.gov.uk/leisureandlibraries/libraries/libraryevents/mentalhealthartsexhibition.aspx
The exhibition has been developed in partnership across the Council (Libraries, Mental Health Commissioning, Environmental Health, Community Mental Health Teams). NHS (Inner North West London PCT, Public Health, Central Northwest London Mental Health) and 3rd Sector (Saint Mary Abbots Rehabilitation and Training Centre – SMART), and funded by the Council and INWL PCT. The exhibition has also been delivered as part of the Choosing Good Health Together public health programme.
Related Articles
GPs know they are prescribing drugs to addicted patients
Meeting on mental health services in Dudley
Big shake-up for community mental health services in Sheffield
Dementia services to get a boost
Mental Health is now included in 'NHS Patient Choice'